Color Toner Cartridges: A Simple, Straightforward Approach
When color toner printers were first introduced, remanufacturing their toner cartridges was a challenge. Today, chemical color toners and components have improved to the point of being equal to or exceeding the OEM.
As we do with every product we manufacture, Laser Image Plus takes a simple, straightforward approach to remanufacturing color toner cartridges. We start by sourcing the very best toner available which must provide an excellent OEM color match. While there are many color toners available, some at cut-rate prices, most do not meet our criteria. We also research toner properties, fusing characteristics and density. More importantly, as a select company certified to display the STMC certification logo on our remanufactured cartridges, we conduct rigorous testing to find the best combination of toner and components for a reliable product.
During the cartridge development process, Laser Image Plus' goal is to create solutions without making unnecessary changes to the basic cartridge design. We take the cartridges apart and inspect them and evaluate issues with components and their interaction with color toners. Some companies have chosen to use low quality toners which has led to adverse effects on other components. For example, some have found that inferior toners cause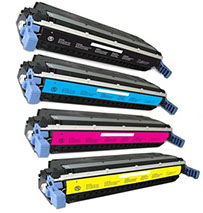 additive buildup on the primary charge roller (PCR) and have chosen to address the buildup by developing a secondary "fix". At Laser Image Plus, we address the problem by sourcing a toner that does not cause this defect. In other words, we attack the primary source of the problem.
And the results speak for themselves. Laser Image Plus has developed a reputation for producing quality color toner products that our dealers and resellers are proud to sell to their clients.